When choosing an insurance company, it's important that the company you choose has the resources to help when you need it most. Vermont Mutual Insurance Group® is pleased to be recognized as a financially stable and responsible company by leading rating agencies.
A.M. Best: A+ Superior rating
In 2014 A.M. Best Company, the global rating agency for the insurance industry, upgraded the financial strength rating of Vermont Mutual from A (Excellent) to A+ (Superior) and the issuer credit ratings to "aa‐" from "a+".
A.M Best stated that "the rating actions reflect Vermont Mutual's favorable underwriting and operating results, which have consistently outperformed the industry composite in recent years. In addition, Vermont Mutual continues to maintain solid risk‐adjusted capitalization, a well-established market presence in the New England states and knowledge of local insurance issues."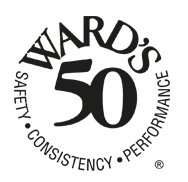 Ward's Top 50
Vermont Mutual has long been recognized as a "Top 50" performing insurance company by Ward Group, a leading provider of benchmarking and best practices studies for insurance companies. The distinction for Vermont Mutual was one that was years in the making. Every year, Ward Group meticulously analyzes approximately 3,000 insurance companies, factoring in growth, profitability, operational efficiency and financial strength over a five year period. As a recipient of the Ward's 50® designation for 14 consecutive years, Vermont Mutual has once again affirmed its position as a leading provider of automobile, homeowner and business insurance in the Northeast, and ranks their performance in the top tier of all companies nationwide since 2009.
When you place your trust in Vermont Mutual Insurance Group®, you enjoy the peace of mind that comes with the protection of an industry leader.
Additional Awards include:
Five Star Carrier by Insurance Business of America Magazine
Top 5 Public & Private Carrier by Carrier Management Magazine
Company Excellence Award from PIA of NH
Named the Deane C Davis Outstanding Vermont Business in 2018
Voted one of the Best Places to Work in Vermont in 2016, 2017, 2018, 2019, 2020, 2021, 2022, 2023